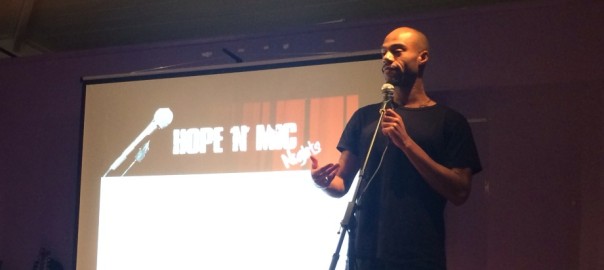 Charitable funds raised: £240 for the Restless Beings orphange. We shared a slideshow of photos from the orphanage taken by Salam Jones who is currently in Bangladesh and visited the place.
Total attendees: 42 souls braved a horrid rainy weather to be here
Host: Shelly Khalid, who brought a unique style of hosting by asking performers a thoughtful question at the end, letting the audience have an insight in to their mind and inspiration
How was the night? Let one of the performers, Abdul Dawood, tell you:
After numerous invites on Facebook to Hope n Mic of 2013 I clicked Not Going for every month between January and November due to where I am currently living in Lancashire. I was finally in London for the December event and I clicked Going. And it has been one of the best clicks I have ever done with the mouse next to booking a holiday.
I turned up for the last event of 2013 which would be my first of that year. I turned up bang on 7pm and came across the host Number 1 B-Boy Rikki Livermore (RikTheMost) and the way he hosted the event was professional as they come. You got 5 minutes bang on to do your thing and he treated everyone equally no matter if you were a household name in poetry or not; his smooth timekeeping kept the event ticking along nicely which is what I like to see. Firm but fair rhyming with the timing.
12 events, 12 months and most importantly 7 different charities (Restless Beings alternating with a new charity every other month). £5 on the door goes to the chosen charity of the month.
Now, let me just elaborate on that, £5 is nothing when you're paying for the charity but at the same time if you don't enjoy the evening, which I really really, really doubt because there is guaranteed to be one act you will like. Unless you're a judge for Britain's Got Talent and a Simon Cowell pleasing level or the arrogance of Novak Djokovic, then that's another debate. But, on a serious note, your money is making a difference to peoples lives around the world. You can walk away knowing someone is sleeping better or eating better now due to you support. How many times do we hear or see people paying over the odds for a Concert, Football Match, Festival and when they come back and talk about there experience they're not happy that after paying so much cash the artist or team fails to deliver to the their liking? As we see in football after a bad performance, the money we don't get back because it does not give a guarantee of enjoyment. At Hope n Mic I can guarantee you will enjoy at least one act or more.
Hope N Mic February 2014
I strolled in at 8pm late is not great, but that's another debate.  Anyway this is my review of all the acts I came across:
Fahad Khalid
He did things with the guitar that I have not heard before so it was amazing. What a coincidence the song was called Ghoom (Lost) – I felt myself lost in the song in a good way. The rhythm was breathtaking.
Inayah
Her first time doing a poem at Hope n Mic and I felt she handled it well. Food for thought with what she spoke about. All I can say is we could all benefit from the type of Mother mentioned in her poem. I know if my baby mama is as good as what she spoke about I would be more than satisfied.
Faisal Salah
Surprised me and blew me away with his song called Waterfall. Amazing vocals for the local's pleasure. I thought he was a spoken word artist but when he belted out the first note how could you not listen till the end. It was great to see him grace the stage once again with the Rumi's Cave Collective.
Cameron Uzoka
Took the stage by storm rapped fast and then broke it down slowly. Liked the way he used what I call "made you think rap".
Curtis Franklin
Curtis Franklin x5 that's how I remember his name, he drilled it home so you don't forget it. I like that you remember him for the performance, the way he got recognised with the crowd. So you can look back and remember that was Curtis Franklin, the performer of 'Distinguished', a powerful message and deep words all triggered off or inspired by lyrics in the song by fake rapper Rick Ross and song titled 'So Sophisticated'. For me this was one of the most powerful spoken word performances of the night.
Virginia
Taught me a new Spanish term as well as the meaning of the term Cor Blimey. I used to use that word in school if something was 'SICK', 'WICKED',  'BAD' (Hiptionary terms yeah not dictionary terms). I have not heard it in a while, the term Cor Blimey, but the story behind it was something new I learnt.
Abdulicious AKA Dawood from Da Hood
I enjoyed my performance; felt the love last night in the room especially when the crowd interacted with the piece I performed 'If You Feel'. It was good stuff. I got a lot of feedback which was good – I can now take that into the next performance at Hope n Mic. The way I work is you're only as good as your last performance, that way I'm forever trying to better yourself. I enjoyed my set.
Stephanie Rodriguez
Chica Rodriguez took the stage and blew everyone away, I mean everyone. I was sat at the back and could hear like I was at the front. She did a cover of Body And Soul by Ella Fitzgerald and Autumn Leaves by Sinatra I think, not too sure. She initially had only one song planned but did a second due to the crowd's demands.
Iram
Iram took the stage after the break. It was also her first time but what made her grace us with her presence was the fact that she was inspired by everyone's performance. It was good to see Hope n Mic having that kind of impact, inspiring her to perform. She also gave us food for thought.
Uncle Errol
What can I say, Uncle Errol is a household name in the poetry game, bit like a new flat when you moving the first thing you make sure is that the Sky or TV is up and running for entertainment value. For me, Errol always livens the room up and his piece on looking past the negatives and finding the true person within really inspired me.
Mizan The Poet
Again breaking strides week in week out and has finally dropped his first CD which I had the privilege to listen to. His performance again had me on the edge of my seat because again this evening of Hope n Mic I could relate to all of the performers one way or another.
Kass Man
This guy inspires me every month to come down from Lancashire to London and perform. Kass Man is living proof that your situation does not determine who you are; YOU determine who you are. His ability to go from stage upon stages week in week out and he does it for the love of spoken word poetry. He did a piece on MS and the fact that he does not let it bother him; he gets on with life regardless. He has a strong character and delivered it bang on.
Jordan
Picture this, you have 15 minutes to practise with a guitarist that you have never collaborated with before and pull it off in front of a crowded room. Jordan delivered a smooth R'n'B ballad to the crowd from the heart which I always have time and respect for.
Toy
Surprise package of the night, great story teller with a poem to follow up. Not gonna get into details of the nature of his performance if you were there great, if you weren't then you missed a great show.
George Nash AKA Boy Nash
Talking about the struggle and dropped a great accapella as well as a strong poem. Strong presence again and hit home his message and got the audience's attention with his hard hitting lyrics.
Rifna
Softly spoken and her silence was broken. For a person who was performing for the first time, she seemed really confident on stage. Did two poems and both were deep. Again I won't give away what they rhymed about as some is personal and intimate and was only shared solely for those who were present in the room.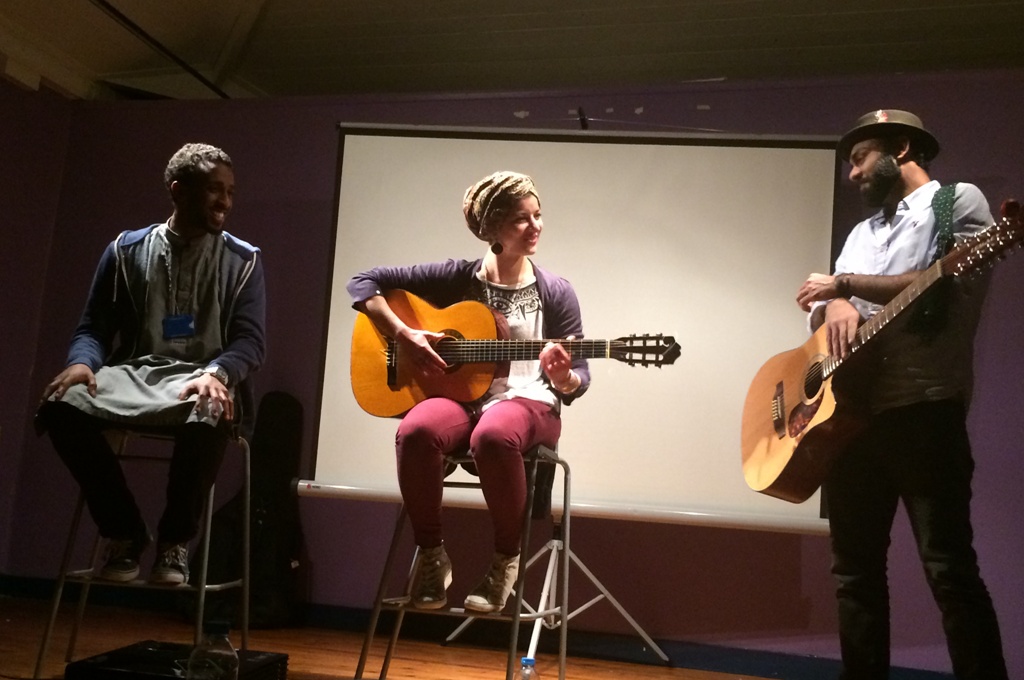 Rumi's Cave Collective
Now when I was first asked to come down to Rumi's Cave I was confused because I don't know you could find a cave in London but apparently one exists in Kilburn and it's not that kind of Cave, stupid, it's a place where you will find golden talent and gems like Rukea, Faisal and Fahad. Great collaboration from all three powerful vocals and really enjoyed the song Love Again cos I really wanna know what that feels like. As mentioned before, Fahad made the guitar cry man for real, really felt the lyrics and Faisal just added to the flavour, he was like the missing salt to the chips, and as for Rukea well as a singer, song writer and being able to play the guitar – she has it all. Her energy levels of keeping the catchy chorus "Love Again" is amazing. Unsung heroes are the word that comes to mind to describe them.
Kamil Mahmood
Great dedication to a person he once knew who passed away with cancer and the tribute was nothing short of greatness. Cancer and I Can Sir, rhyme and word play like that I look for most because I am similar to that rhyming style.
Sulthana Bea
A woman called Vanessa Williams once had a song called 'Save the Best Till Last', this was the perfect way to cap the night off. Sulthana is the heart of Hope n Mic. She has a strong character and is always smiling, her smile brightens up the room. So when she graces the stage and performs from her heart a piece as powerful as Lost And Found, which was ironic because she lost the poem on her phone and then found it again. I won't go into details as it was a classic case of if you're lucky enough to listen you witnessed something extraordinary. And if you weren't present then you can keep singing that song by R Kelly "If I Could Turn Back The Hands Of Time" but guess what, you can't and it's not gonna happen. However if you wanna witness something from the people who took part in February's edition of Hope N Mic you can catch them on the next show on Friday 28th March 2014. Until then keep hoping and miking.
***
Alongside the above, there were also strong performances from Prince Malachi and Archetype (with so many performances, you have to forgive Abdul for forgetting a name or two).
Thanks as always goes to all the guests who attended, without you we would not have been able to raise £240 for the charity. Thank you to the Hope n Mic team who are all volunteers: Sulthana, Tammana, Asmaa, Mizan and Maja, and thank you to Kabi Nazrul Centre for hosting us as always.
♥ The Hope n Mic Team
Join our community at Facebook Group here or tweet us at @hopenmicnights and don't forget to use the hashtag #hopenmic